Residential Services
Your home is one of the biggest investments you are going to make in your life. And its landscape and lawn are always going to have a big influence on you and your life. Make sure it is professionally installed, maintained, and taken care of. At Lawn Works of LA, we provide total landscaping services throughout Ruston, LA, and the surrounding areas.

Explore the main services that we offer to our clients in the region: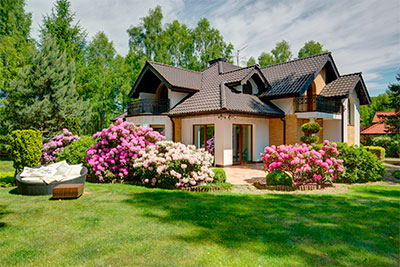 Designing and Installing
Our professionally designed and installed landscapes create a comfortable and elegant outdoor space for your home. Our certified team of designers, installers, and landscapers handle everything from designing to installation to renovation. Our designing team will work with you to create designs of landscape features based on your specific ideas, needs, and goals. We consider all the key factors including your budget and the existing features and dimensions of your landscape.

Combined with our expertise and creativity, advanced techniques and equipment allow us to transform your ideas into reality. We use only quality materials and nursery stock in the installation and application processes on your landscape. Our experience and training allow us to follow proven planting practices. We install trees, plants, ornamentals, irrigation systems, mulch, and offer associated landscape care services. Read More About Designing and Installing »


Maintaining Property
Your landscape creates the first impression of your home. Our professional landscape maintenance services help ensure that your lawn, planting beds, and trees look green, colorful, and beautiful all year long. An even more important focus is on ensuring the optimal health of your flora and the soil. Our services include everything from bush trimming to shrub trimming to checking your lawn periodically for any issues.

Professional landscape maintenance is essential because you cannot leave everything to nature. The right amount and quality of human care and intervention are a must-have. A maintenance schedule will ensure that your lawn, trees, and plants will always look good and healthy. You will not have to consider a costly replacement in the long term. Our certified maintenance crew will ensure that the plants and trees get adequate sunlight, oxygen, and water, and your landscape will always look manicured. Read More About Maintaining Property »


Mowing Grass
Our grass mowing services ensure that your turf will always look well cared for and manicured. First impressions matter and our routine services help you always create positive ones. Our scheduled service offers much more than making the task convenient for you. We can develop a custom maintenance program based on your lawn's size, features, and unique needs. The local climate, watering frequency, and the lawn's condition influence how often we mow the grass. You can never achieve the same level of results as professional grass mowing can. We follow the best horticultural practices and are fully equipped to mow all the different species of grasses to the right height for optimal beauty and health. Equipped with the right equipment such as push mowers, stand-on mowers, and walk-behind mowers and the right skills, we can achieve unmatched results. Read More About Mowing Grass »


Caring for Trees and Shrubs
Trees and shrubs form an important part of your landscape and they need ample care to stay healthy and beautiful in the long run. Our specialized caring services will help achieve this. From pruning to trimming to fertilization, we provide a wide range of care and maintenance services.

Our core care services focus on ensuring that all the greenery on your landscape receives adequate sunlight, air circulation, and watering. Besides, our certified landscapers will also take steps to prevent broken branches. Your lawn and landscape will look well maintained all year round, thus enhancing your property's value and making a great first impression.

Part of our tree and shrub care services include managing tree health as well. We will also check proper irrigation, soil compactness, and any signs of pest damage and recommend the right course of action. Read More About Caring For Trees and Shrubs »


Fertilizing
Timely and proper fertilization plays an important role in ensuring the health, beauty, and longevity of your landscape. We have certified landscapers and our years of experience in the industry allows us to choose the right fertilizing formulations for your flower beds, trees, plants, and grass. We will conduct a professional examination of your planting beds and turf to determine the unique need for nutrients before creating a custom fertilization plan.

Proper and periodic fertilization makes your lawn and plants resilient to insects, diseases, and weeds. We take the necessary steps to ensure that there are enough and the right amounts of nutrients for all your vegetation. From the soil's condition to existing species to age to watering to weather and other conditions, we assess all key factors before creating a custom fertilization program for your property. As part of our green initiatives, we use safe products including organic soil enhancers. Read More About Fertilizing »


Controlling Weeds
We provide pre-emergent and post-emergent weed control services for all the different types of weeds that grow in your region. This includes foxtail, buckhorn, crabgrass, hawkweed, goosegrass, and much more. We use time-tested, industry-standard, and safe treatments customized to your lawn and planting beds' unique needs and challenges. Our pre-emergent weed control services focus on reducing or eliminating the chances of germination or growth of weeds. We also provide scheduled services to destroy any weed growth on your property.

Our post-emergent control services include all the different types of processes. This includes systemic, selective, non-selective, and contact processes. Our certified weed-control specialists will create a custom program after conducting a thorough examination of your property. If required, we can also combine both pre-emergent and post-emergent treatments to achieve the desired results. Read More About Controlling Weeds »


Aerating
Our professional aeration services help improve your lawn's water intake, resilience, and offer many other benefits. Scheduled aeration helps in achieving a thicker, healthier, and more beautiful lawn. Other benefits include eliminating risks of water run-off and puddling. Your lawn will be able to withstand heat and droughts more effectively.

There is so much more that professional lawn aeration can provide. It will create a more conducive space for the re-growth of your microflora and fauna that further supports your lawn's health and growth. The grassroots will get access to more nutrients, oxygen, and water. Improved soil permeability plays a big role in improving water drainage. Our certified technicians specialize in both core and spike aeration. Read More About Aerating »


Removing Leaves
Our professional leaf removal services mean all the convenience and comfort you can ask for. Our scheduled services ensure that your landscape will look clean and beautiful all year round, especially in the fall. Trees are going to shed leaves without fail and you will need consistent professional removal services to ensure that your property looks well maintained.

Regular leaf removal prevents the build-up of leaves from interfering with spring grass reseeding. It prevents decomposing leaves from creating wet conditions for insects to thrive. Our experienced and well-trained lawn care specialists will use raking, blowing, and bagging before removing leaves from your property. Our services may also include checking and cleaning the drains off leaves, sticks, and brush. Once removed, we send the leaves to green decompose facilities for conversion into topsoil material. Read More About Removing Leaves »


Caring for Flower Beds
We provide professional care for your flower beds using industry-standard best practices. Whatever the size and type of your flower beds, we have the expertise, experience, and certifications required to take care of them. Our team comprises arborists, landscapers, and many other certified specialists. Our range of services includes flower bed edging, plant installation and removal, pruning, trimming, and much more.

Professional care can bring all the glory and magic out of your flower beds. Our custom care programs can ensure that your planting beds will thrive and stay protected all year long. Decorative beds are easier to plant than to maintain and care for. Your garden beds are going to need routine care during the growing and dormant seasons. And we are the specialists you can trust your gardens with. Read More About Caring For Flower Beds »


Mulching
We install all the different types of mulches on our client's landscape. Our experienced and certified team will inspect your lawn and planting beds before determining the right type of mulch to meet the unique nutrient and other needs. We supply and install all the different types of mulch including shredded hardwood, cocoa hulls, cedar mulch, grass clippings, pine straw, straw, and others. We can provide both organic and inorganic mulch.

We install mulch to provide many benefits for your garden beds. It can help in reducing soil compaction, promoting soil nutrition, and preventing weed growth. Our experts can also select the right mulch that maintains soil temperature through different seasons. It promotes healthier growth and prepares your planting beds for changes between seasons. Read More About Mulching »


Irrigation Installation
We are certified irrigation installation experts with years of experience. Our trained technicians can install different types of sprinkler and drip irrigation systems. We will begin by determining the unique needs and the prevailing conditions for your lawn. All our systems help achieve common goals such as time savings, maintaining a healthy lawn, and ensuring adequate water coverage. Besides these benefits, we will also address needs that are specific to your landscape.

We design and install customized irrigation systems for your residential landscape. Some of the key factors that influence the decision include the size of the garden beds, shape and type of lawn, landscape and design, water requirements, and soil type. Our focus is not just on achieving the goals but also to conserve water. Our experts will determine the right choice of components and proper positioning of the spray heads. Read More About Irrigation Installation »


Irrigation Repair and Troubleshooting
We provide prompt repair and troubleshooting services for residential irrigation systems. Our repair and maintenance services are offered for all types of irrigation systems on your property. From sprinkler heads to rain sensors to valve boxes to pipes, we repair and replace all types of irrigation system components. We can enter maintenance contracts for different periods ranging from monthly to annual inspection and repair works. All our contracts are custom designed to meet the unique needs of the type of system you have.

Water head repair or replacement, controller management, and system renovation are some of the common services we offer for your sprinkler system. Our technicians receive continual training and use the latest equipment and techniques for troubleshooting and repair. Read More About Irrigation Repair and Troubleshooting »

If you need more information about our services, feel free to call us today at (318)-547-3443. You may also visit our Contact Us page to write to us or to check our business location.