Commercial Services
Your commercial landscape is an investment in your business. It has a significant impact on your business. We at Lawn Works of LA provide comprehensive landscape designing, installation, maintenance, and care services in Ruston, LA. We cover the following range of commercial landscape services for our clients: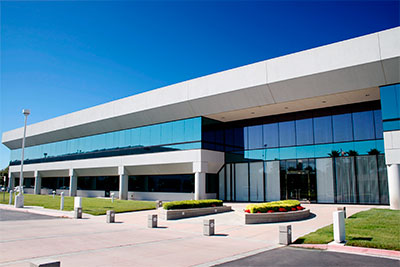 Designing and Installing
Our landscape design and installation services are focused on your unique needs, goals, and the key features and factors of your landscape. Our crew of certified and experienced designers and landscapers can address your unique needs whether you want to install new features or upgrade your existing landscape. Our designing process involves learning about your unique goals and needs, identifying the key factors, and creating a custom plan.

Whatever plants, trees, or features you may want to install on your commercial landscape, we can take the right steps and measures to achieve your goal. With years of experience and the right equipment, we have everything required to transform your ideas into reality. Read More About Designing and Installing »


Mowing Grass
Scheduled grass mowing is an essential step in maintaining a professional and clean lawn for your business premises. We help you create an attractive, welcoming, and healthy outdoor setting for your commercial property. Our quality grass mowing services help create a positive impression on your customers, potential customers, employees, and the public.

From scheduled grass mowing services to one-time services, we offer custom solutions based on your unique needs and budget. We offer greater speed and better-quality results. No matter the size, type, and layout of your landscape, we can handle everything. Our certified team has years of experience and we are fully equipped to handle all types of grassing mowing requirements. Read More About Mowing Grass »


Irrigation Management and Repair
From irrigation start-up to upgrades to winterization to repairs, we cover everything in our irrigation management services. We have a crew of specialized and certified technicians who can inspect your irrigation system on a scheduled basis. We can check your existing system for any form of issues and will identify the underlying cause.

Our upgrade services focus on improving the efficiency and performance of your existing irrigation system. Smart control upgrades give you greater control over your system. The winterization services during the fall prepare your system for the harsh winters. This helps in protecting your investment and preventing expensive repairs or replacements. Read More About Irrigation Management and Repair »


Fertilizing
Our fertilization services for your lawn and planting beds will be based on our professional inspection of your property. We use custom fertilizer formulations to address the unique needs of your turf and garden beds. The right treatment will make your turf healthy, thick, and lush. It will bring vibrant colors to your flowering beds, prevent weed growth, build greater resilience, and keep your lawn looking beautiful all year long.

We develop custom fertilization services for every commercial client. Our certified technicians are fully equipped and use high-quality products. The controlled-release formulations will help your lawn and flowering beds to grow healthily through different seasons. Our experience and ongoing training allow us to choose the right ingredients and maintain the perfect schedule. Read More About Fertilizing »


Weed Control
We develop a custom weed control program for your commercial landscape and lawn. Scheduled weed control processes are often required around early spring and fall. If weeds have already infested your lawn, we can take timely measures to kill them. Part of our processes includes preventing weeds from growing and spreading and implementing control applications.

Our certified team treats all types of weeds including perennial, bulbil-producing, and annual weeds. From thistles to dandelions to buttercups to chickweed, we have the experience and expertise in killing all the different types of weeds. We provide both pre-emergent and post-emergent weed control services for our commercial clients throughout the region. Read More About Weed Control »


Aerating
Our aeration services for commercial clients are customized to address the unique demands of their turf. Our crew of experienced professionals will inspect your lawn and develop a custom aeration program. All our measures are developed to meet the latest in environmental regulations.

All the different types of aeration techniques are practiced based on the unique needs of your lawn. We can use core aeration, spike aeration, and liquid aeration to improve the air, nutrient, and water-absorbing properties of your lawn. Our aeration specialists are fully certified and experienced professionals. Our local knowledge gives us a unique edge in delivering better services. Read More About Aerating »


Leaf Removal
Our professional leaf removal services provide you much more than convenience and time savings. Our certified landscaping specialists use the latest, environment-friendly techniques to remove leaves from your property. We are fully equipped with the latest equipment. This allows us to clean your landscape quickly and more efficiently.

Our environment-friendly measures add additional value to the leaf removal service that we offer. Not only will we move the collected leaves in a safe way, but we also transport them to environment-friendly composting facilities. Thus, the collected leaves will eventually turn into topsoil material. Our professional leaf removal services use safe techniques to prevent any sort of damage to your turf during the process. Read More About Leaf Removal »


Mulching and Caring for Beds
When it comes to mulching and caring for planting beds in commercial properties, we use industry-standard best practices. From supplying the right type of mulch for your lawn and planting beds, we use effective application methods. We install all the different types of mulching matter. The choice of the right material will depend on our findings after an evaluation of your landscape.

Our custom mulching services help protect your plants, shrubs, and trees from damages from mowers. This will also prevent weed growth and help retain soil moisture. Better moisture retention will reduce watering needs. Thus, our services also help in conserving water. Read More About Mulching and Caring for Beds »

If you need more information about our commercial landscaping services, call us at Lawn Works of LA today at (318)-547-3443. You may also send us a detailed inquiry by using this Online Form. We will respond to your message at the earliest.